Virginia Senator Tim Kaine says he's been stuck on I-95 in Virginia for 21+ hours: "I bet I have another 2 or 3 hours to go to get to work. I left yesterday right at lunchtime." YouTube Tips ⓘ
Interstate 95 (I-95) is the main north–south Interstate Highway on the East Coast of the United States, and on January 3-4, 2022 the interstate became jammed between Washington D.C. and an area around Fredericksburg, Virginia.
Tuesday morning, January 4, 2022, the Virginia Department of Transportation (VDOT) reported that I-95 was closed in both directions in Fredericksburg area from exit 152 (Dumfries Road) to exit 104 (Carmel Church).
Several jams were caused by jackknifed trucks. At 12:59 a.m. VDOT reported that on I-95 southbound in Stafford, traffic was blocked near exit 136 (Centreport Pkwy.) area due to struck/disabled (stuck? sic?) trucks. VDOT crews were traveling north in the southbound lanes of I-95, south of Centreport in order to get to the scene for plowing and treating of I-95.
On I-95 northbound, an estimated 20-30 trucks were stuck near the Matta River area, around Mile Marker 117, south of exit 118 (Thornburg). Towing crews were on the scene for removal, with VDOT crews coming to plow and treat the interstate surrounding the removal of disabled vehicles.
I-95 from Fredericksburg to Washington D.C. runs from southwest to northeast. I-95 traverses from U.S. Route 1 (US 1) in Miami, Florida to the Houlton–Woodstock Border Crossing between Maine and the Canadian province of New Brunswick. The interstate mostly parallels the Atlantic coast and US 1, except for a segment between Savannah, Georgia and Washington D.C. and a segment between Portland, Maine and Houlton, Maine.
A CT family returning in a packed car from Florida walked by in the middle of the night handing out oranges as we were stopped for hours on I-95. Bless them! pic.twitter.com/MrmZ1ZF6JJ

— Tim Kaine (@timkaine) January 4, 2022
I'm frustrated, but not in serious trouble. If you are in trouble on Virginia roads today, call @VaDOT at 1-800-FOR-ROAD.

— Tim Kaine (@timkaine) January 4, 2022
Interstate 95 is closed in both directions in the Fredericksburg area as crews work to help stranded motorists, some stuck for as long as 24 hours. YouTube Tips ⓘ
I-95 closure leaves cars stranded for over 12 hours in Virginia due to winter weather. (FOX Weather Courtesy: WTTG). YouTube Tips ⓘ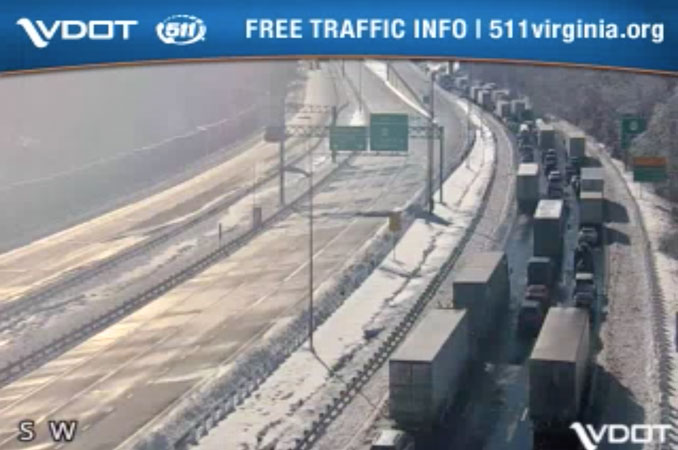 Traffic Alerts from the Virginia Department of Transportation
(approx. 11:00 a.m. ESTl)
Update: Incident: SB on I-95 at MM166.0 (0.8mi south of Rt7100S Exit166A) in Fairfax Co. All SB travel lanes closed. 11:22AM
Crash: NB on I-81 at MM285.0 (2.0mi north of VA-42 Exit283) in Shenandoah Co. 1 NB travel lane closed. Delay 2 mi. 11:18AM
Disabled Vehicle: EB on I-66 at MM57.2 (0.4mi west of US-50E Exit57A) in Fairfax Co. 1 EB travel lane closed. 11:14AM
Update: Crash: NB on VA-288 at 5.8mi south of I-64 in Goochland Co. 1 NB travel lane closed. 11:14AM
Cleared: Disabled Vehicle: EB on I-64 at MM146.0 (2.6mi west of VA-605 Exit148) in Louisa Co. 11:10AM
Update: Crash: NB on US-301 at 1.4mi north of US-17 in King George Co. All NB travel lanes closed. 11:10AM
Cleared: Closed: Other Weather: EB on Rt. 666E at MM1 in Dinwiddie Co. 11:10AM
Cleared: Closed: Other Weather: NB on Rt. 603N at MM5 in Powhatan Co. 11:10AM
Cleared: Closed: Other Weather: NB on Rt. 603N at MM5 in Caroline Co. 11:02AM
Update: Incident: SB on I-95 at MM156.0 (1.7mi south of Dale Blvd Exit156) in Prince William Co. All SB travel lanes closed. 11:02AM
Closed: Other Weather: NB on Rt. 614N in Goochland Co. All NB & all SB travel lanes closed. Potential Delays. 10:58AM
Update: Incident: SB on I-95 at MM163.0 (0.1mi north of US-1 Exit161) in Fairfax Co. All SB travel lanes closed. 10:54AM
Cleared: Bridge/Tunnel Stoppage: WB on I-64 at I-64 Tunnel-HRBT W in Norfolk. 10:52AM
Bridge/Tunnel Stoppage: WB on I-64 at I-64 Tunnel-HRBT W in Norfolk. All WB travel lanes closed. 10:50AM
Cleared: Disabled Vehicle: WB on I-64 High Rise Bridge W in Chesapeake. 10:50AM
Update: Disabled Vehicle: WB on I-64 High Rise Bridge W in Chesapeake. 1 WB travel lane closed. 10:46AM
Update: Crash: NB on US-301 at 1.4mi north of US-17 in King George Co. All NB travel lanes closed. 10:46AM
Disabled Vehicle: EB on I-64 at MM146.0 (2.6mi west of VA-605 Exit148) in Louisa Co. 1 EB travel lane closed. 10:46AM
Crash: NB on I-664 I-664 Tunnel-MMMBT N in Hampton. 1 NB travel lane closed. 10:44AM
Cleared: Bridge/Tunnel Stoppage: WB on I-64 at I-64 Tunnel-HRBT W in Norfolk. 10:44AM