The National Weather Service has split Prince William County, Virginia into two zones to provide better forecasting of the higher elevations in northwest Prince County compared to the lower elevations in central and southeast Prince County. In addition to county-based FIPS codes, the NWS maintains forecast/warning zones names & zone codes for some forecast products, and many (although not all) watches/warnings/advisories.
In order to provide more accurate watch, warning, and advisory services for Prince William County in northern VA, the NWS forecast zone code for Prince William, including Manassas and Manassas Park was slated to be split.
The change was implemented on Wednesday March 8, 2023.
The current NWS forecast zone …
VAZ052: Prince William/Manassas/Manassas Park will be split and given the new zone codes:
VAZ526: Northwest Prince William
VAZ527: Central and Southeast Prince William/Manassas/Manassas Park
Note: This does not impact the county/FIPS code for Prince William County VA, which remains VAC153 / 051153, City of Manassas VAC683 / 051683, nor City of Manassas Park VAC685 / 051685. FIPS codes are what are used by NOAA Weather Radio, so no updates are needed for NOAA Weather Radio.
Rationale:
The zone changes will result in a more geographically precise forecast, watch and warning products for the general public and will enhance web-based graphical product consistency and appearance.
This will allow the NWS to refine where weather hazards are, and are not, present for conditions that can vary significantly between the higher elevations in the northwest part of Prince William County VA, from the lower elevation and more populous central & southeastern parts of the county.
Other than more precise watches and warnings for the zones of Prince William County, most of the impact from this change will be to automated processing systems that look for NWS zone codes when disseminating our products.
There will be mostly no change to NOAA Weather Radio (NWR) services in the area. The alerting feature of NOAA Weather Radio uses county codes, not NWS zone codes. So no changes to the code(s) you have programmed into your NOAA Weather Radio are necessary. The one change will be that Northwest Prince William County will not be included in the NWR Fredericksburg broadcast – since the signal does not reliably reach that area. It will continue to be covered by NWR Manassas and NWR Washington.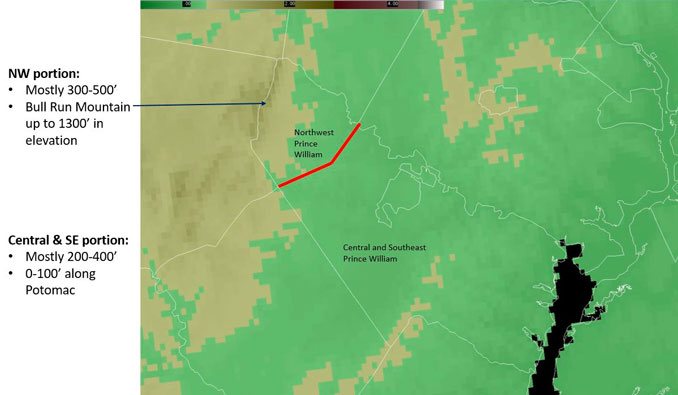 FLASHBACK …